You've undoubtedly read and seen plenty about the supercharged dream machine from Kawasaki by now.  I won't go into numbers (OMG 300 horsepower) in this article, but will instead focus on what this bike actually is and who it is meant for.  The numbers and specs are available pretty much everywhere at this point.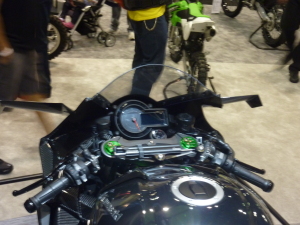 So to recap, the H2R is supercharged and not street legal AND it costs a speculated $50,000+.  Of course it is a technical showcase.  We will be seeing the street-going H2 in the coming weeks which will be a bit more accessible.  Kawasaki launched this bike with multiple teasers on a timed rollout.  It was a marketing gimmick to drum up hype and it sure worked.  And not only is it super-hyped, it's not even something that most people can or would even want to buy, but it is a harbinger of greater things to come. With an emphasis on emissions and gas mileage today, forced induction is making its way deeper into all motor vehicle markets.  Kawasaki blazed the trail for the 300cc starter sportbike market, followed by Honda and now Yamaha and KTM.  Perhaps they will also create a sweeping change in the superbike market as well with the supercharged literbikes.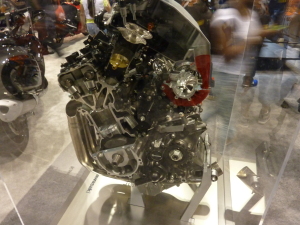 This is about as close to "exotic" or "supercar" as a bike can come at this point.  Sorry to disappoint all those Ducati owners, but Italian doesn't always mean exotic.  The 1199 Panigale is a great bike, but it's not a Ferrari or a Lamborghini. It's a direct competitor of every other bike in the Superbike racing class (ZX-10R, YZF-R1, GSXR1000, CBR1000RR, S1000RR, etc).  The H2R is an exotic.  The market is almost non-existent and it doesn't care.  Kawasaki didn't continue the straight-line horsepower train to further duke it out with the Hayabusa.  The H2R has an appropriate wheelbase, a 1000cc engine, 17-inch wheels shod with slicks, and is made to work in the turns. It is built to compete on road courses but breaks all the class rules.  At this time, there simply is no competition.  We'll have to hold for actual track times, but with all that carbon fiber and aerodynamics enhancements, I'm betting it will set some record laps.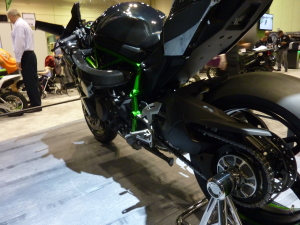 But who will actually buy the H2R?  The people with enough money to dump on something they can't even use on the street are generally the people who also want to be seen.  You may see celebrities on the H2, but I'm doubting many will be grabbing the H2R.  It's not legal in any standard racing class, so even racers with big budgets won't be taking their chances at the race track.  With all those carbon fiber wings sticking out, you certainly don't want to drop it (I'm picturing a similar sight to F1 cars exploding into CF shards once they go tumbling). So I can only imagine the answer will be a select few collectors and enthusiasts who have the disposable income to spend, but still have no intention of truly opening the beast up like it was truly meant to be ridden.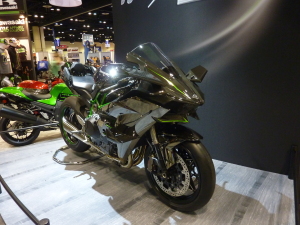 Kudos to Kawasaki though for stepping out of the crowd and bringing innovation back into the sport market.  Most others are plenty happy to fall in line and pump out urban warrior bikes because they're hot and selling.  The sport market is lagging since the economic downturn and the excitement from the H2R is just what this segment needed to get some interest back.  I can only hope this brings back the glory times of the early 2000s when new generation supersports were being released every two years just to keep up with the demand and competition.