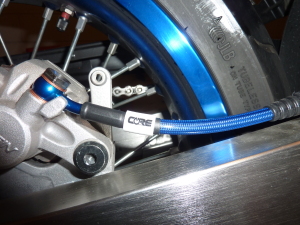 One vendor I was particularly looking out for at this year's AIMExpo 2014 was CoreMoto, primarily known for their custom brake lines.  I have heard many positive reviews from different people, and being from Florida, many residents choose CoreMoto because they are local.  I even had the opportunity to meet the owner during Bike Week a few years ago and he was very interested in building and selling a great product, not just another knockoff of what works.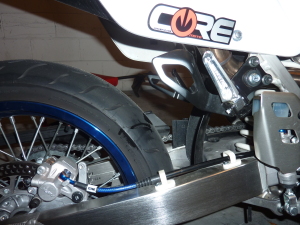 Brake lines are pretty simple.  The OEM lines are generally rubber which allow flex and expansion of the lines and ultimately leads to performance degradation over time.  Stainless steel braided lines don't expand under pressure and offer a more linear feel throughout the pull.  They are simply more predictable and reliable.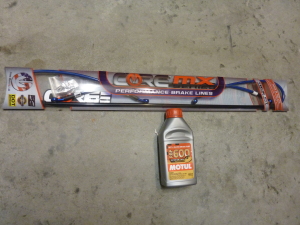 Other than just using good materials, it's difficult to make a brake line that stands out from the crowd, but CoreMoto manages to do just that.  With a huge assortment of color options for the fittings, logo tags, and brake lines, you get to have your choice of exactly how they will look and match your bike's color scheme.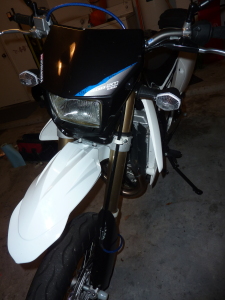 I have Goodridge lines for my R1, and they are a good quality brake line, but that's where it ends.  CoreMoto adds all of the extra line stiffeners, rubber fittings, etc to make them fit properly for your specific application.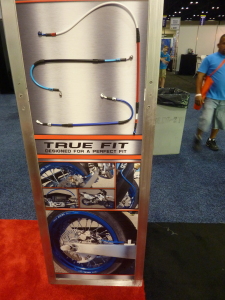 I recently fitted them to my 2014 Suzuki DR-Z400SM supermoto after seeing that specific application advertised at their AIMExpo booth.  It looked great in the picture, and looks great in person as well.  They shipped in a long package due to the front line stiffener for MX based motorcycles, and included all necessary hardware…and a few stickers.  (I don't know why anyone doesn't add free stickers to every item sold).  The instructions were complete and even showed how to adjust the fittings properly (without voiding the lifetime warranty) if they didn't quite line up, but mine did so I had no issue.
After installing the lines and filling with my personal favorite, Motul RBF600 Synthetic DOT 4 Brake Fluid
, I was ready to test them out.  I was instantly impressed.  Both front and rear brake feel increased considerably, as expected, over the OEM rubber lines.  No leaks or imperfections.  A great looking and great performing product from an American company.

I certainly recommend CoreMoto brake lines when considering your next purchase, you won't be disappointed!