First: Why the R6?
There's the simple answer, and then the slightly more in depth. The simple: I like Yamaha.  I used to go to the track on my 2009 Yamaha R1, but quickly learned that I wasn't actually learning with all of that power.  It was simply too much to really get a good grasp on what makes a good track rider.  For instance, I could simply put the bike in 3rd gear for the entire track and run my maximum pace.  That's great if you want to shoot down the straights and pretend you're good, but I wanted something a bit more manageable.  Something that I could switch gears on throughout the track, that I could brake and accelerate, and that I could flick around a little more crazily…also, something that was a little lighter on consumables like tires, oil, brake pads, etc.
So I knew I wanted a 600.  My end-game is to race.  I may have even been a bit hasty with the 600 as there are plenty of 300-500 race classes that are more noob-friendly, but 600 is where I landed.  I am a long time Yamaha fan, so the R6 was the obvious choice for me personally.  The other 3 Japanese 600s are also great options of course, you can't go wrong with any of them, but Yamaha holds a special spot in my heart.
The First Track Day
I kind of surprised myself with how quickly the R6 route presented itself.  I signed up for a trackday in May 2015, but only got the bike in April.  So I was fully prepared to do one last trackday on the R1, even bought some new tires (which still sit in my guest room unused!).  Anyway, the Florida rain kicked in, like usual, and delayed the day until June.  This just happened to give me enough time to get my 600 mile service in, get my "New Bike Package" installed, including Core Moto stainless braided brake lines, Engine Ice coolant, Motul RBF600 brake fluid, and Motul 300V oil.  I was all set, but unfortunately I didn't have time to replace the tires, so I used the stock Dunlop Qualifiers that came with it.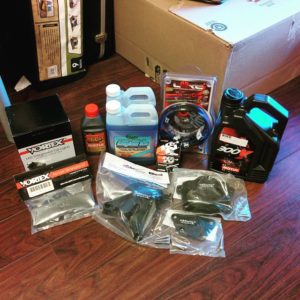 It was mostly successful, I had to push a little harder to match my R1 lap times at JenningsGP, but I eventually did, and pushed those stock tires pretty hard (or so it seemed).  The big take-away was that I definitely made the right choice.  The R6 was a joy to ride at the track, and left room for improvement and also was forgiving enough to accompany some mistakes along the way without punishing me for some overuse of the throttle.
What's Next? Stay Tuned!
I will be documenting the journey from showroom bike to track weapon as I progress on the R6.  Stay tuned and feel free to add any questions, suggestions, or input.  I'll try to be a little more active from now on 😉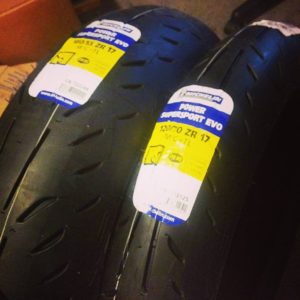 Up next: Track day 2 on the Michelin Pilot Supersport Evos, and first time with tire warmers.