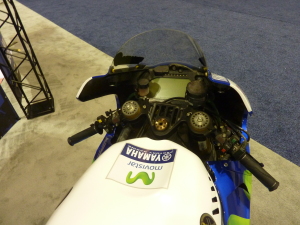 One of the greatest sights at any expo, convention, or race event is the opportunity to see the pure racing machines up close.  The ability to take in every nuance of the machines from any angle you want.  Not just restricted to the views given by TV and print coverage.  Especially the GP prototype bikes that you can't simply go to a dealership or a track day to see a similar setup.
Though they may not be the machines that are currently being ridden by the associated riders, they are probably a previous year's model or a very close replica.  Either way, you can still see the same exact parts that are on the track with the current running setups.
Valentino Rossi – Yamaha YZR-M1 MotoGP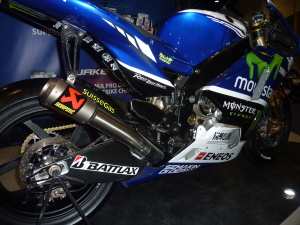 MotoGP bikes are impressive.  Basically the Formula1 equivalent for motorcycles, they are fast and ultra light.  Also, with prototype parts and electronics, they are also quite expensive (Honda's RC213V gearbox is a million dollar unit alone!).  I'm always impressed seeing the massive amount of custom carbon fiber bits.  The rear sprockets are so thin that it's incredible how they can withstand the 250+ horsepower over a race length.  Massive and thick carbon front brakes to bring them down from 210+mph to corner entry speeds.  Exposed dry clutches.  And of course, the best available suspension components from companies like Ohlins, and the Brembo brake calipers that can cost in the tens of thousands of dollars.  Valentino Rossi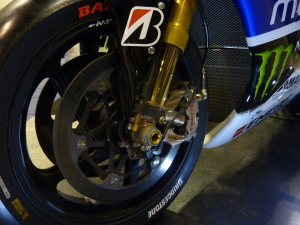 The GP bikes are certainly a sight to behold for any race fan.
Josh Hayes – AMA Pro Superbike Champion – Monster Graves Yamaha YZF-R1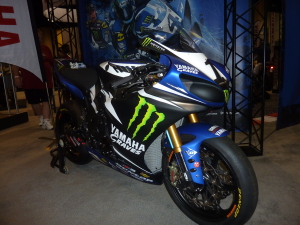 Being an R1 owner myself, I personally love to see what modifications the teams make and what might be available to install on my own bike.  Unlike MotoGP, Superbike and Supersport series rules generally keep the motorcycles moderately close to the bike you can purchase from the showroom floor.  Of course they have a ton of development and fine tuning, but most components can be bought by anybody for the right price. Josh Hayes is a dominant force in American roadracing, so it's always great to see what he is riding.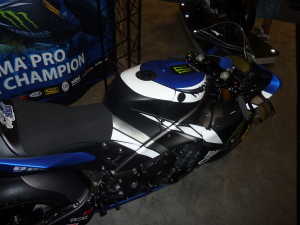 Tom Sykes – FIM World Superbike Champion – Kawasaki ZX-10R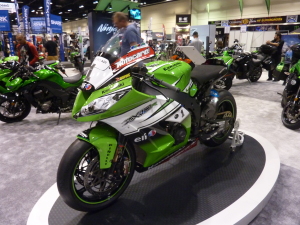 Last but certainly not least, the Kawasaki ZX-10R of Tom Sykes, the reigning 2014 World Superbike champion.  World Superbike is the top series that still races homologated motorcycles that are based in the showroom customer models.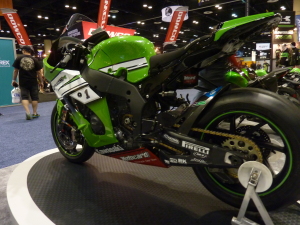 As my favorite race series to watch due to the close and competitive nature of the teams, I was happily surprised to see the ZX-10R race bike on display.  Valentino Rossi is arguably the most popular motorcycle racer in history, so of course his bike is always a crowd pleaser.  And Josh Hayes is the current American series champion, so it is locally relevant.  But World Superbike is not as popular in the United States unfortunately.  Hopefully that will change soon because the races are certainly exciting, plus we have an American race at Laguna Seca in California to see them up close in person.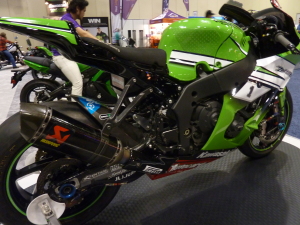 Unfortunately that was the extent of the official race machinery at the AIMExpo this year, but it was a great improvement and increase in manufacturers over its inaugural year in 2013.
Whose bike would you like to see up close?  Let us know in the Comments below!