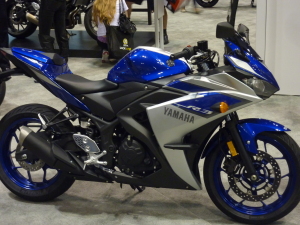 It is a great time to be a new rider, at least if sport bikes are your thing. When I started riding, the options were pretty slim.  There was the Ninja 250 and EX500, both of which were very unexciting when compared to the 600 and 1000cc brethren.  A few years later the Ninjas 250R got a pretty decent makeover and seemed much more sporty, but was still noticeably a small starter bike.
Some want the look of the bike to match their passion.  Starting out shouldn't be penalized with boring and unattractive options.  Kawasaki finally nailed it with the Ninja 300.  At a quick glance, it's hard to quickly point out the differences between it and the ZX-6R and ZX-10R.  They all share yearly color schemes and the general design shares an aggressive theme.  A new rider no longer needs to be upset at their lack of options.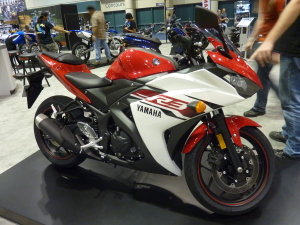 Recently Honda took notice and released the CBR250 and has the 300cc update coming soon.  Now Yamaha and KTM are following suit to compete in the entry sportbike market.  And the great news is that all of the bikes look modern and promise to offer great performance for the size.
Heck, even seasoned riders are finding themselves excited by the new small displacement sportbikes.  Not only do they look good, but they're cheap and easy to handle for a blast at the track.  Plus they offer a great value as a daily commuter getting 60+ MPG easily.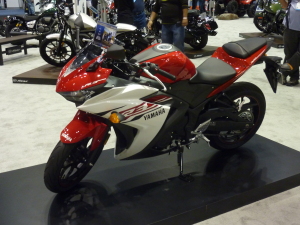 I recently had the chance to check out the new Yamaha R3 at the AIMExpo in Orlando and it is a great addition to the "R" lineup.  It will soon be overshadowed by the hinted R1 update for 2015, but is still a very exciting prospect for new riders.  It is comfortable and lightweight, and the less aggressive ergonomics should be welcoming to those looking to pick up their first sportbike. Plus, with the R6 and R1 inspired looks, they'll also be able to blast around on a bike they can be truly proud to own.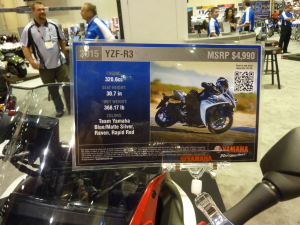 With all the great small displacement options, there's been no better time to make the jump to two wheels and join in the madness!